Enjoy your Labor Day weekend, BR! (There will be no school on Friday or Monday)

Let's have a great year, BR! Thursday - 11:30 am dismissal Friday - full day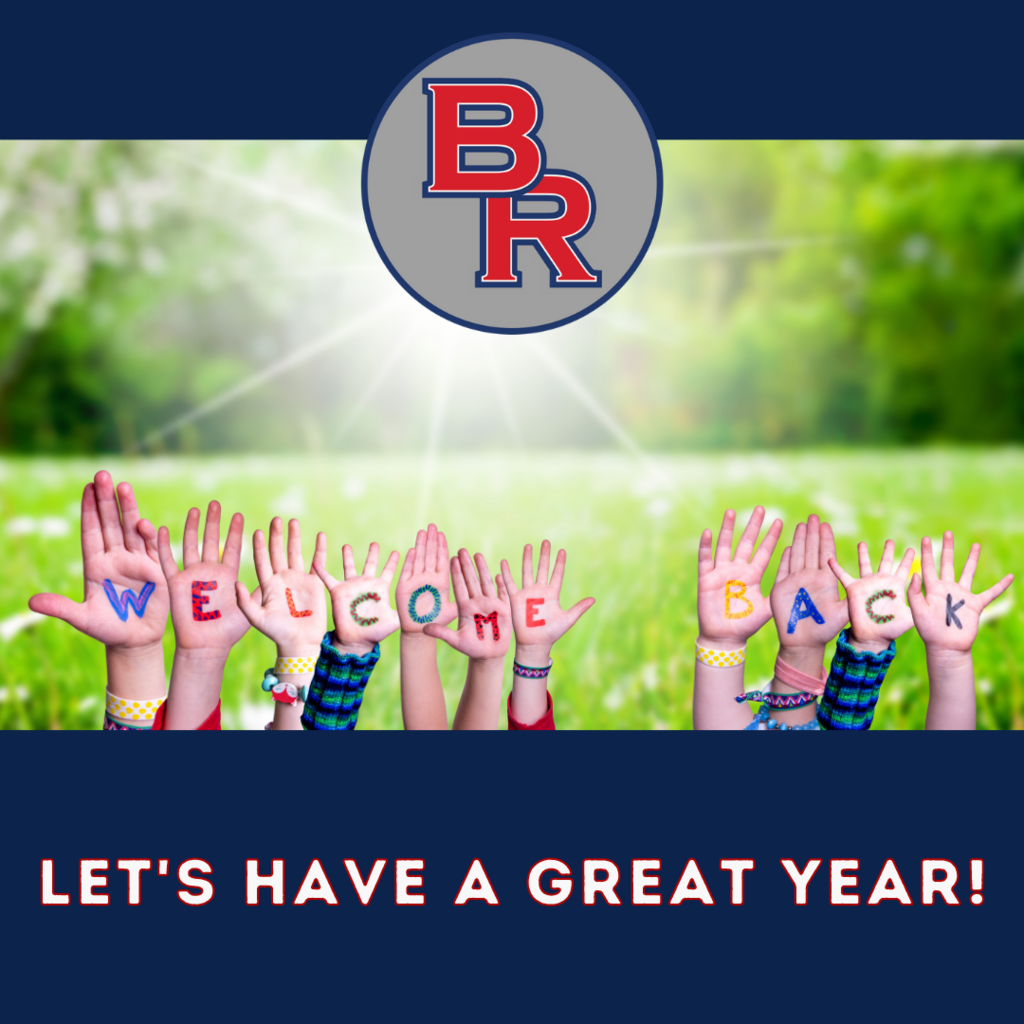 SHOUT OUT to our local businesses that continue to support our student-athletes! If you would like to join our list of corporate sponsors here are a couple of reminders: - Donation deadline - August 31st - Silver, Gold, and Platinum sponsors will get a nameplate on the new chairs being ordered for the high school gym. The current chairs in the gym are 25 years old! What an opportunity for a long-lasting investment!! Please contact Sports Boosters to show your CARDINAL PRIDE via email at
BRPSSportsBoosters@gmail.com
.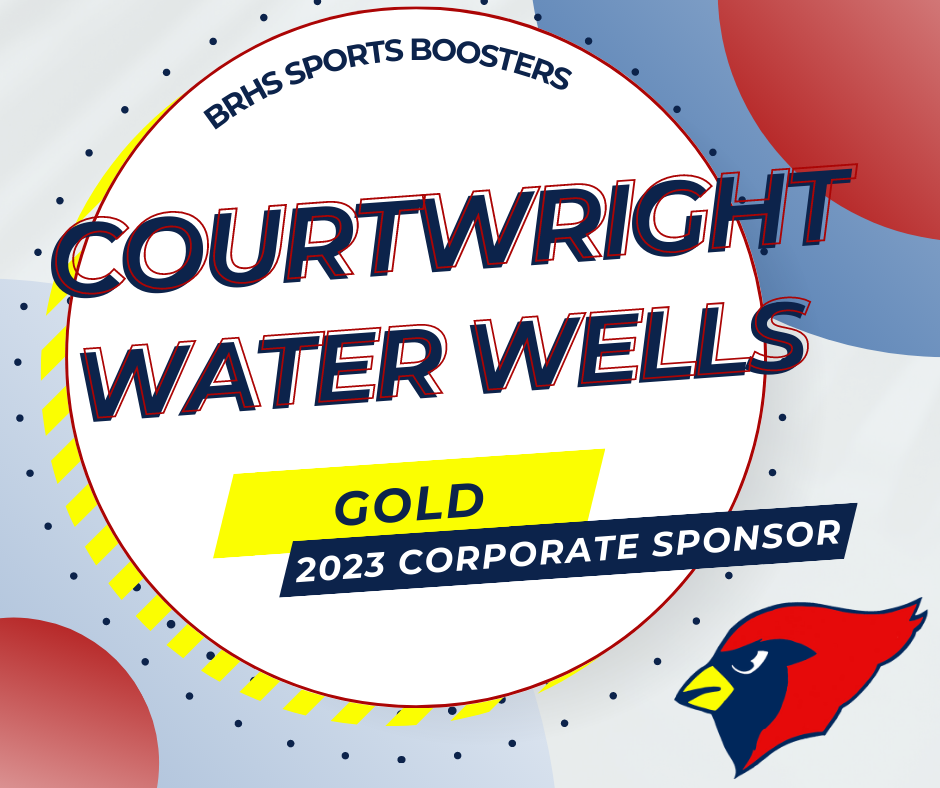 Here are the current standings for the Cardinal Lock-In competition with just over a week left! If you're having any issues registering your student please reach out to the Sports Boosters at
BRPSSportsBoosters@gmail.com
. As a reminder, the event code is 629a1be4d86d9 Go Cards!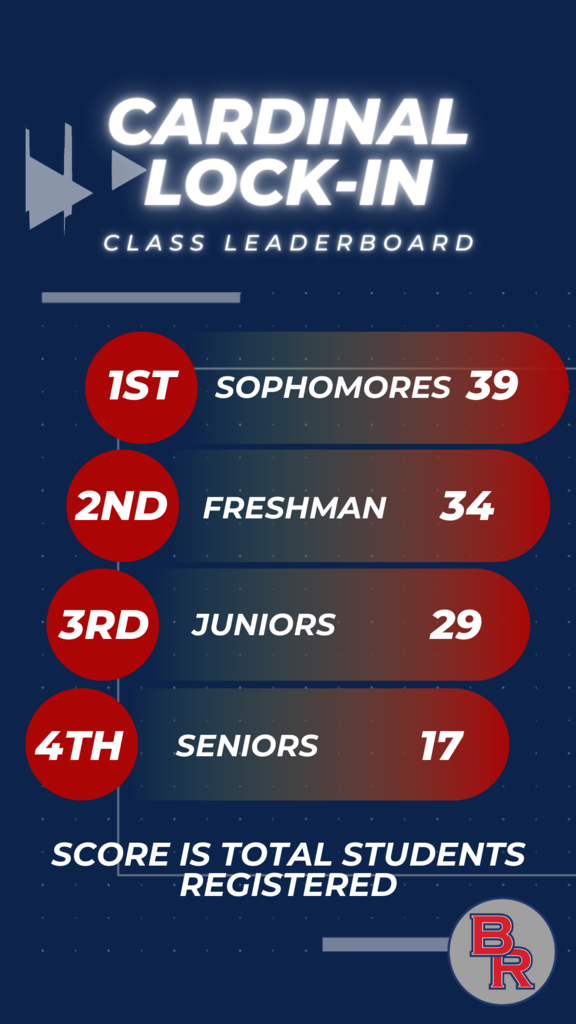 SHOUT OUT to our local businesses that continue to support our student-athletes! If you would like to join our list of corporate sponsors here are a couple of reminders: - Donation deadline - August 31st - Silver, Gold, and Platinum sponsors will get a nameplate on the new chairs being ordered for the high school gym. The current chairs in the gym are 25 years old! What an opportunity for a long-lasting investment!! Please contact Sports Boosters to show your CARDINAL PRIDE via email at
BRPSSportsBoosters@gmail.com
.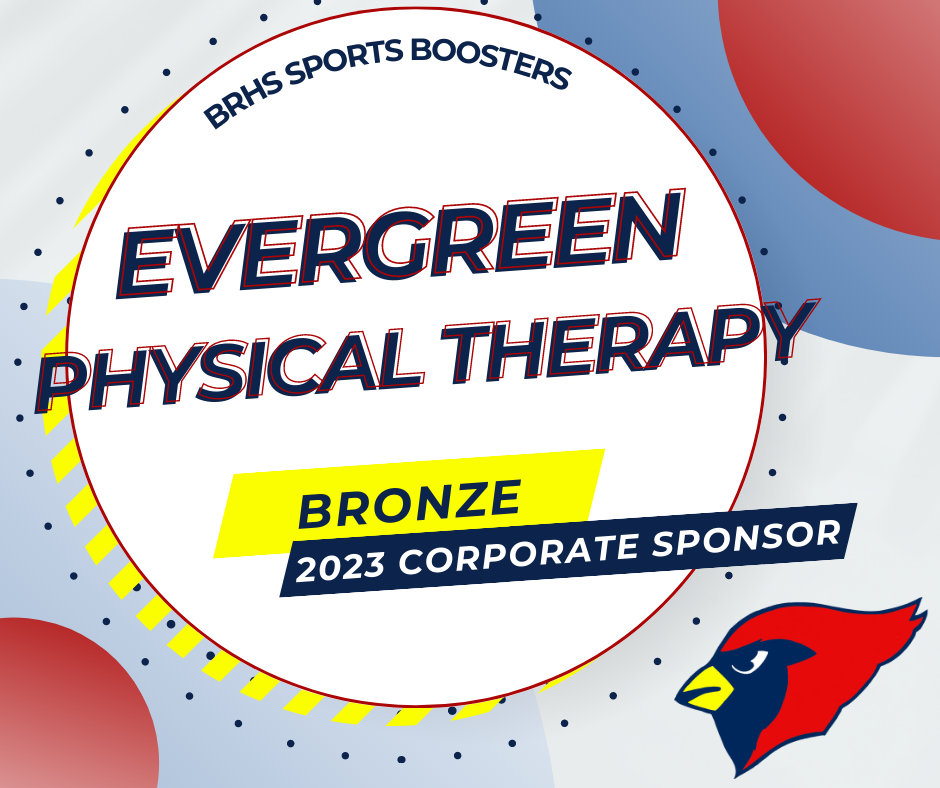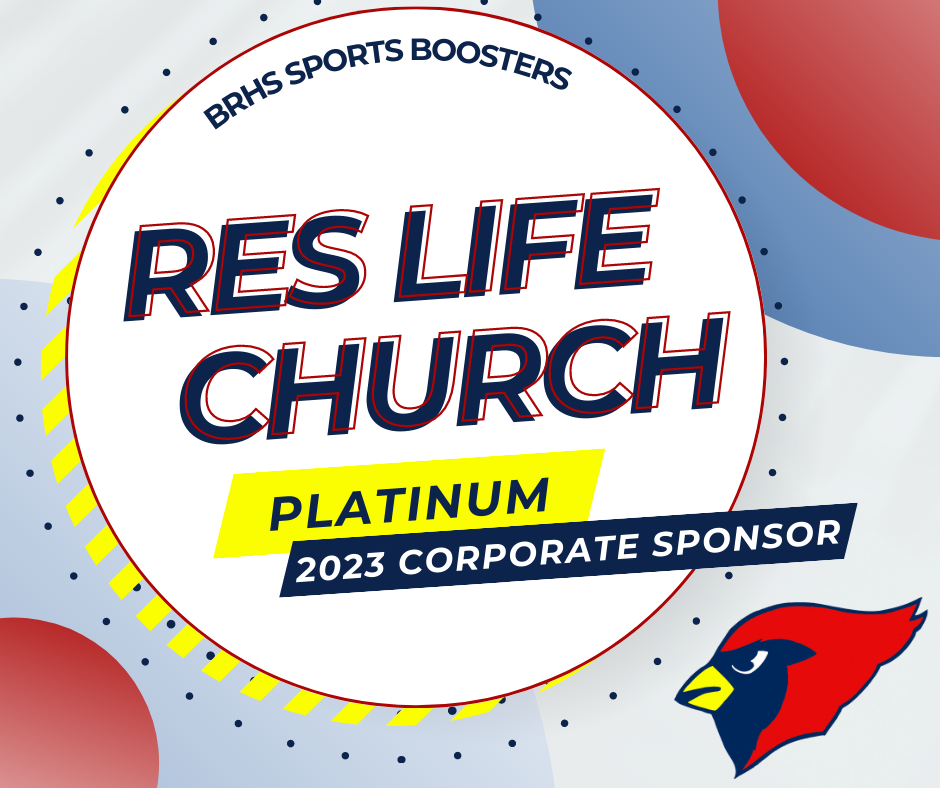 The BRPS Facilities & Grounds Department was recognized at last night's Board Meeting for their efforts and dedication in preparing for the 2023-24 school year. Director, Brian Akey, acknowledged the administration and the Board for providing the department with the much-needed additional resources required to complete all the building upgrades. The existing staff led the charge with the assistance of some district para-pros, teachers, and food service workers. Together, the team was able to accomplish the upgrades and repairs on all school buildings, including an additional building for the 2023-24 year, Eastwood Elementary. Mr. Akey commended the team for coming together and for all they accomplished. Additionally, he made a point to recognize that each team member took great pride in their work and that it shows in the details of each building that were not overlooked. We are proud of our Facilities and Grounds team! Your Cardinal Pride shines through!!

"Cardinal Crazies" packages are here for the 2023 school year! Please read the following information if you would like to order: Our Online Apparel Store for Big Rapids Spirit Pack 2023 can be found by going to:
http://teamchaser.com/
- Click the TEAM SALES tab in the upper left hand corner - Put in the sales code:  BRSPIRIT2023 - Click on the picture and the order form will come up on the right side of the screen PLEASE NOTE: Anyone can purchase the "Cardinal Crazies" gear! However, high school students will also receive a key tag that will get them into all home events FREE of charge (excluding MHSAA events). NO RETURNS OR EXCHANGES so please make sure you carefully select the appropriate sizes. Our store will expire Wednesday, August 16 th at 11:59 pm. NO later orders will be accepted. Packages will be delivered to the BRPS approx. 2 weeks after our store closes. They will be distributed by school staff. Thank you, Dawn Thompson BRHS Athletic Director

The BRPS Sports Boosters will be hosting a Cardinal Lock-In! The goal of this message is to share with you some details so you and your student can help us make a difference. Why - The BRPS Sports Boosters is trying to coordinate one large fundraiser to help supplement the needs and wants of the BRPS Athletic Department. Last year we spent over $30,000 on our student-athletes! How - We will be using the same platform as the elementary school's Move-A-Thon and the Middle School's Foam Frenzy. Register by using the QR code or link below. If your student has participated in a Get Movin' Crew event before you do not have to create a new login. It will prompt you with what to do if you are a return user. If you and your student both register the accounts can be linked. Who - The entire BRHS student body is welcome to the Cardinal Lock-In. This event is NOT just for athletes. All participants will have to have at least one donation to get into the Lock-In event. We encourage all students to be registered before the event, but donations will be taken at the door. When - The fundraising starts August 7th and goes to August 25th at midnight. The Lock-In event will be on August 26th. Time - 7:00pm to 11:00pm. Make a plan for rides home! Where - The Big Rapids High School - Cardinal Stadium. (Inclement weather plan is in the High School). More Details in no particular order - 1. There will be corn hole, dodgeball, and whiffle ball tournaments. Sign-ups will be released prior to the event. 2. If your student leaves the event they will not be allowed to come back into the stadium. 3. No outside food or drink, sleeping bags, or blankets will be allowed in the stadium. We will have the concession stand up and running. There will be water provided at no charge. Each student will be given a free slice of pizza. 4. There will be incentives to participate in this fundraising event. Please keep in mind that due to NCAA rules, we are restricted by the dollar amount given to a student-athlete. All incentives will be given out at the Lock-In event. Incentives will be released at a later date. If you have any questions about our event or would like to donate or help please reach out to any one of us. We will be happy to answer any of your questions. We are an excited group of volunteers looking to help make a difference at BRHS! Emily Coles 231-872-0005,
BRPSSportsBoosters@gmail.com
Tony Foster Kelly Dubowski Dawn Thompson Athletic Director,
dthompso@BRPS.org
https://www.getmovinfundhub.com/register?school_uuid=629a1be4d86d9

Come join us! We are still looking for boys' tennis coaches this fall and some middle school coaches.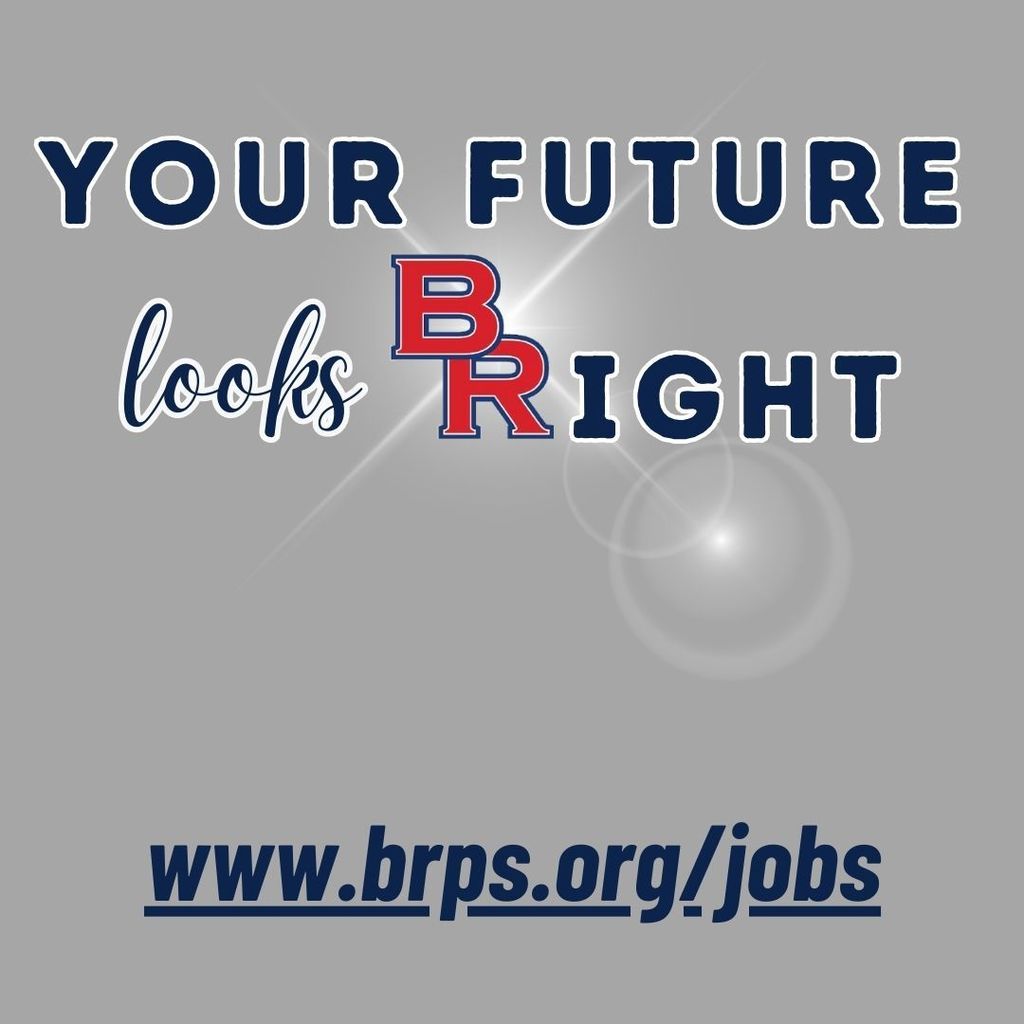 In every endeavor in life, we have a chance to make a difference. This past weekend, at the National Clay Target League Championships in Mason, MI, the BRHS Trap Team and coach Ben Upham did just that! Competing at Nationals were Alexander Brandt, Austin Brandt, James Brandt, Noah Brandt, Cayden Eckles, Bailey Nordland, Hannah Reed, Luke Roberts, Jacob Schuberg, Caleb Speese, and Aiden Zimmerman. Team qualifiers were Friday, July 7th. Individuals competed on Saturday, July 8th, and the championship for both was Sunday, July 9th. Big Rapids saw tremendous improvement from the team but, amidst some tough competition, did not qualify for the finals. Noah Brandt and Luke Roberts qualified for the individual finals. Noah shot 97/100 putting him in 122nd place. Luke shot 93/100 putting him in 320th place. There were 1,718 shooters that competed for a shot at the finals! Aside from capping off a fantastic season, the BR Trap Team also managed to make a difference in the lives and the hearts of their competitors. The Kimball Longhorn Trap Team from Kimball, Nebraska traveled 16 hours to compete in Mason this past weekend as well. During the first two rounds of competition, Justin Klosterman, a Kimball competitor, began having malfunction issues with his shotgun. The Longhorns happened to settle, beneath tents, next to the BR Trap Team who offered parts, tools, advice, and help. What was needed was a special part from their long away home so the newly found friends from Big Rapids offered a backup firearm for the remainder of the competition. The display of sportsmanship and kindness did not go unnoticed by the family from Kimball. "They saved the day for some very grateful fellow competitors. My son would have been out of his senior competition without their generosity. Everyone's support changed an awful situation into a positive experience", shared Justin's mother, Denelle Klosterman. "Thank you, Cayden Eckles and your team! Your kindness won't be forgotten!" We couldn't be more proud of the BR Trap Team for representing our school and our community the way you did this past weekend! Kudos to all students, coaches, and families involved, and a special thanks to Denelle Klosterman for sharing this heartwarming story. We are BR!